Resource Analytical & Management Group, LLC, is a natural resource analytical, advisory, and asset management firm.
Our Broad Expertise
Your Individual Benefit
We provide a wide range of multi-disciplinary professional services and solutions to a wide variety of clientele in the fields of oil, gas and minerals, land and energy resources, together with those in the geospatial and photogrammetric information mapping, environmental and regulatory, forest, timber and wildlife, business intelligence, research and development, and litigation consulting fields.
Your Broad Needs
Our Individual Experts
Our graduate natural resource analysts, appraisers, oil and gas and surface landmen and minerals managers, asset managers and acquisition and divestiture specialists, registered easement and right-of-way agents, regulatory analysts, GIS and remote sensing specialists, environmental assessors and professional foresters help our clients identify, inventory, analyze, assess, value, acquire, manage, grow, protect, use and divest investments and assets wisely to maximize net income, preserve quality of life, and conserve our environment.
Explore our fields of Expertise here →.

Serving land, mineral and royalty owners, investors, explorers and producers is our calling. Stewardship is our business.
We serve land, mineral and royalty owners and investors – exploration, production and transportation entities – petroleum engineering, civil engineering, geodesy and surveying firms – energy sector securities analysts, fund managers and brokers – forest and timber landowners and products companies – state and local governments, municipally owned utilities and community water systems – banks and financing institutions – wealth management firms and trust companies – and law firms, accounting firms and related professional practices.
Explore our Clientele Services & Solutions here →.

With our broad expertise, availability and technology, almost no place in the Lower 48 and Alaska is too far away.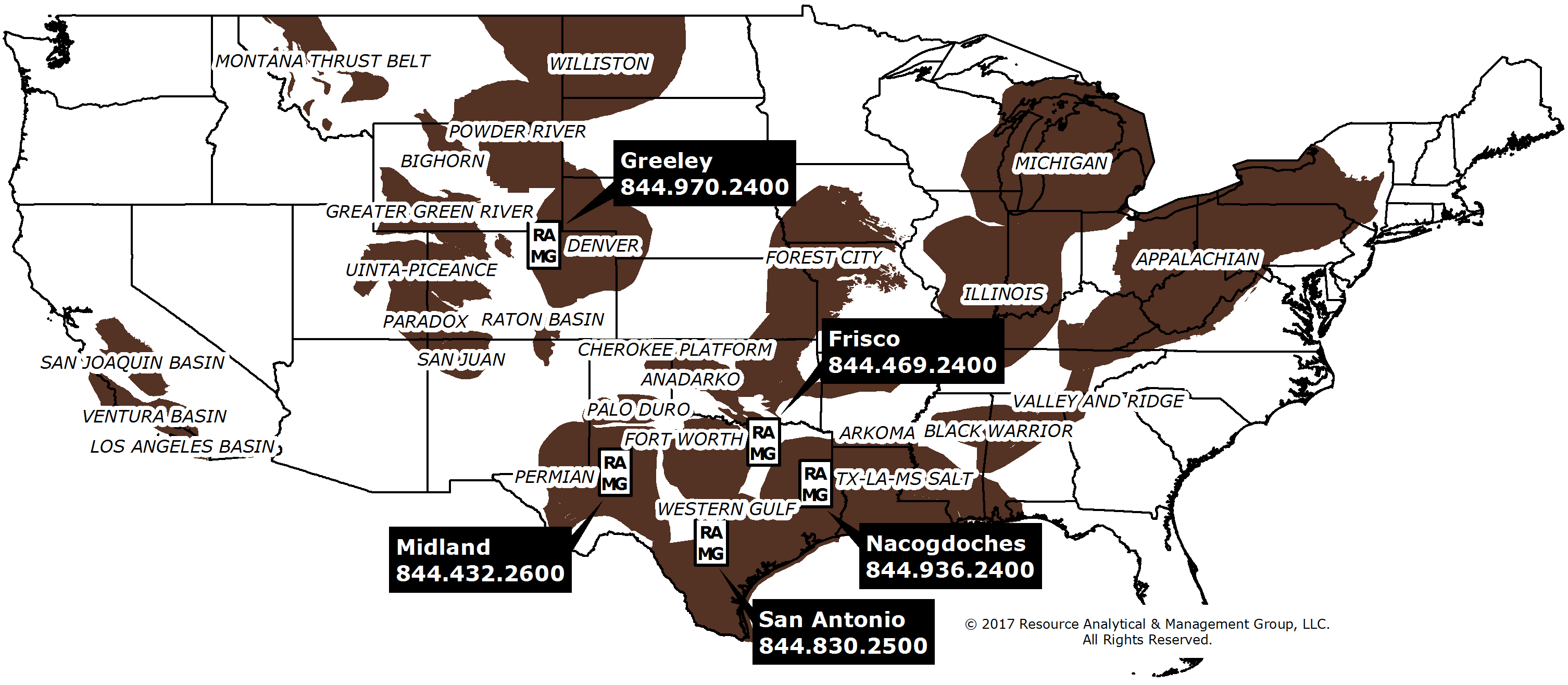 Our experience is particularly extensive in the states of Texas, Oklahoma, Colorado, Louisiana and Mississippi  –  including all the major basins and conventional and unconventional plays in those states such as the Wolfcamp Shale and the Spraberry, Wolfberry and other plays in west Texas, the Eagle Ford Shale and other plays in south Texas, the Barnett Shale and other plays in north central Texas, the Niobrara Shale and other plays in Colorado, and the Haynesville/Bossier Shale, Tuscaloosa Marine Shale and other plays in east Texas, Louisiana and Mississippi.
In the same way, we help land and surface owners deal with pipeline easements and rights-of-way, well site locations, wellbore easements and other surface matters, and address environmental concerns that accompany such plays.
And we've been helping private timberland owners and forest products companies manage their special assets with our forest resource expertise for close to four decades, mostly in the Southern Gulf Coastal Plain.

You have situations to relate, questions to ask, problems to be solved and needs to be met.
Call , email  or use this → contact form now to begin your first, friendly, solution conversation with a Resource Analytical Natural Resource Professional.